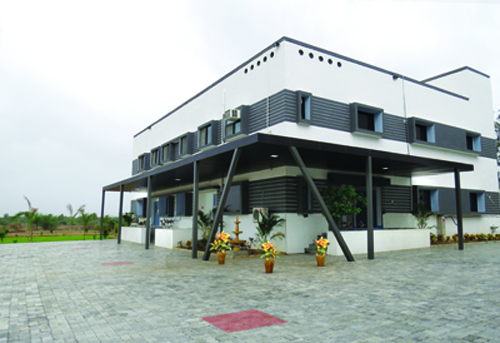 Dhara Lifescience Pvt. Ltd. & KBH Polymers Pvt. Ltd. Ahmedabad, started operation in 2009 & 2013 respectively. The world's most preferred coating material agent i.e. Methacrylic acid copolymers, Color ready-mix material, Carbomers (Thickening/Gelling agent) & Taste-Masking resins are manufactured by us with utmost dedication.
             Dharacoat | Readycoat | Gelpol | Vitasol are the trusted brand names in these segments.
             'Grab the faster coating technology advantage' is not just a tag line in tablet coating segment but a genuine serious approach. Moreover, Gelpol (where thickening consistency matters) is really a unique product in cosmetic & personal care applications. Due to our innovation, process development & quality polymers, WHO GMP compliant manufacturing facilities, dedicated, well experienced R & D teams, committed QA/QC departments, excellent back office support and a strong techno-marketing field force; a complete team work in real means, is the key of success and the back bone of our organization. Our corporate office is situated at Science City Road, the most promising & upcoming area in Ahmedabad, Gujarat (INDIA).
             Within a short span, we gained the confidence among the customers and are simultaneously achieving a continual growth. 'Never compromise on quality & services' is our commitment.
             Just after a year of operation, Dhara Lifescience Pvt. Ltd. acquired one more plant dedicated for the Methacrylic acid copolymers & Color ready-mix coating material for various application in pharmaceutical formulations like Film coating, Enteric coating, Moisture barrier coating, Taste-Masking & Sustain-Release (for oral solid dosage forms).
             Our R & D team efforts have made it possible tablet coating much easier, simpler and hassle free. We have our established brands Dharacoat | Readycoat with various grades, offer highest level quality. In personal care/cosmetic application, we offer various grades of Gelpol – the perfect thickening/gelling agent, as per the requirement of the customers. Vitasol grades are used as solubilizers for fat solubale vitamins, perfumes, essential oils & other hydrophobic pharmaceuticals. These are manufactured in 'state-of-the art' facilities.
             Mr. B.K. Patel (Chairman) & Mr. Himesh Patel (Managing Director), the entrepreneurs by design, with different ideology & methodology, down to earth personality, vast experience & knowledge, to assure our valued customers the best quality products with a genuine cost & faster delivery.
             We believe in transparency among all of us and assure to extend full co-operation and techno-commercial support hoping a long standing business relationship. Being specialized in polymer manufacturing, we are here to extend our knowledge based support towards a better solution in various formulations for pharmaceutical, personal care, cosmetic, home care, fabric care application with our highest performing excipients/ingredients as the end products will be used for the mankind. We work in a 'family-friendly work culture' but with professional approach so that each individual can put the best efforts to accomplish responsibilities and goal which leads to maximum customer satisfaction.